H

ello little polka pals and welcome to your

P

olka

P

it!

Founded in 1985, Polkacide was originally organized to play a one-night stand for the Deaf Club in San Francisco, California. Since then, Polkacide has played with such diverse groups as Sun Ra, Primus, Brave Combo, k.d. lang, The Dead Kennedys, and many, many more. Press Release for 25th Anniversary
Polkacide: the Legend
The story of the origins of Polkacide begins in the swirling Mists of Time. On a foggy, blustery day, whilst tramping through the far reaches of the windswept western end of Golden Gate Park, contemplating Kierkegaard, Kant and Wells (and I don't mean Orson, baby!), the Right Reverend Ward Abronski beheld a heavenly sight. Through the tangled sticks and branches, shimmering off the curtain of leaves he felt, more than saw, a Glorious Golden Light. Drawn like a Moth to a Flame he pushed deeper into the intertwining underbrush and heard the Mellifluous Sound of a bubbling spring. An aroma of Barley, Hops and Fresh Water permeated the air with the Promise of Festivity. Forcing his way farther into the murky copse the sound of birds singing in 2/4 time melded with happy voices and laughter. Stepping out into the incandescant clearing, bathed in a glowing light even more life-giving than the sun, Ward beheld the source of All the Goodness and Joy. In the center of this Enchanted Dale stood a Golden Stump, a Wellspring emanating Joy and Well-being. From its base flowed a freshet of Pure, Delicious, Glorious Beer. The Golden Stump itself shone with an Inner Light that radiated to warm and enfold all it touched. Nestled in the gnarled roots of the Stump, the Lion lay with the Lamb, a Cat was peacefully grooming a Sparrow, a Man in a KKK Hood shared a Crystal Beer Stein with an African-American Stevedore and an Elderly Scandinavian Librarian as they all gazed deeply into each others eyes, laughing and smiling. Ward threw off his clothes and ran to join the Golden Ring of Dancers of every race, creed, color, gender preference, and political affiliation. The Happiest Sound in the World, Polka Music filled the Golden Air.
What seemed like days later, as he made his weary way back to his cold water third floor flat, Reverend Abronski realized he had been given a special vision of the world as it could be. He knew he had to bring the Warm Glow of the Golden Stump to the downtrodden, sad, lonely people he saw everyday on his way to his job sweeping up at the mausoleum. So, much like another misunderstood seeker of days gone by, he began to gather the people he would need to help him in his glorious mission of Happiness. The exploits and antics of the Old Ones have now become part of the web and warp of the fabric of popular culture. Reverend Ward, Neil Basa, JX 'Love' Jones, Johnny Jack, Alistair Shanks.....they still walk among us and their greatness is palpable. But still the children sing in nursery rhymes, long ago divorced from their true origins, of Bruno DeSmartass, Hayok the Thunderer, Big Lou, the Trickster Dudzo Wartniac, Josh B'Gosh, the Glory of the Polka Sluts in full multi-petticoated Splendor...
Let us sing their praises Long and Loud!
Date last revised: February 13, 2010

Polkacide Photo Archives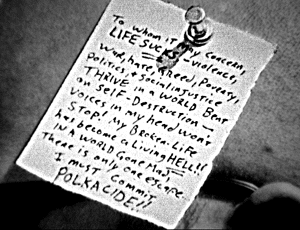 July 2009 - Sand by the Ton show, Oakland, CA


June 2009 The Bottom of the Hill, San Francisco California. Polkacide, Go Going Gone Girls and the Meat Sluts. Happy birthday Mark show. Images from show | YouTube channel
Alistair's Chicago Tour Snapshots
Polkaholic Jolly James' photo album from the Wild Polka Weekend in Illinois
Alistair's Cotati Accordion Festival Snapshots
XX Anniversary - March 2005 San Francisco
More photos of the XX Annivesary fun
the Story of P
Biographies
Polka Pals
Band Photo
Band Photo2
OktoBearfest, S.F. 10/03
in the Midwest
Neil Basa
at the GAMH
at Burning Man
at Cotati Fest

Polkacide is in the San Francisco Style Polka Hall of Fame.
Check it out at Escape from New York Pizza at 508 Castro in SF.
photos and commentary by Eli
photos and commentary by Big Lou

Grind all meat together with meat grinder using a large hole setting. Crush garlic and mix with other seasonings into ground meats. Knead together thoroughly. Knead in the quart of water slowly until all is absorbed. Soak sausage casings in cold water with several changes of water to loosen them. Put casings on funnel end of sausage stuffer. Tie end of casing. Put meat in stuffer and crank and fill casing. Prick casings liberally to let air escape before placing in oven. Bake at 325 F for 1 hr. Add water in bottom of pan as needed.
(Ron Gitaitis of Tifton, Georgia, from his grandfather)
---
Lithuanian Kielbasa
To 5 pounds coarsely ground pork butts add 1 heaping teaspoon pulverized whole mustard seeds, 1 heaping teaspoon whole allspice and 1/2 teaspoon whole black peppercorns. Add 1/2 large onion and 1 large clove garlic, finely minced; 1/4 cup salt; and 1/2 cup water.
Mix thoroughly, and stuff into casings. Poach or boil for 20 minutes. Makes 6-8 servings.
(from Domesticity: A Gastronomic Interpretation of Love by Bob Shacochis, copyright 1994 )
---
Blood Sausage aka "Kiszka"
(as in "Who Stole the Kishka?"- the famous Walt Solek tune)
From _Great Sausage Recipes and Meat Curing_ by Rytek Kutas, kindly shared by Doug Allison from Decatur, GA on alt.music.polka
Ingredients for 25 pounds

8 ozs           salt
1 oz            onion powder
1 oz            coarse black pepper
0.25 oz         marjoram
0.25 oz         ground allspice
1 qt            beef blood 
1 oz            Prague Powder #1
12.5 lbs        pork snouts
5 lbs           pork tongues
2.5 lbs         pork skins
5 lbs           buckwheat groats or barley (cooked weight)
All meats must be cooked for at least 2 hours then cooled. Grind all the meats through a 3/16" grinder plate.
Place the buckwheat groats or barley in a container and cover with boiling water for at least 2 hours. Be sure you place a cover on the container to prevent too much heat from escaping. (You may cook either of these items until the volume is doubled.) Remove and let cool.
After all the meats and groats have cooled, place in a mixer and add all the seasonings and blood, and mix well. Stuff into beef bungs or beef middles. Blood sausage is then cooked in 160 degrees F. water until the internal temperature reaches 152 degrees F. Remove from cooker and shower with cool water until the internal temperature is reduced to 110 degrees F.; place in cooler for at least 24 hours.
NOTE: Since there always seems to be some breakage in the sausage business, you may add whatever broken sausage you have to the above formula. This blood sausage is spiced quite heavily and will cover up most other spices. You may add up to 4 lbs of broken sausage to a 25 lb formula. Be sure you account for the salt already in the broken sausage.
Doug says: "From the same book, I learned that kielbasa szynkowa is Polish ham sausage, which may be the "shinka" listed in the lyrics. I have no idea what "stoogelina" might be.
Joe Jackloski says: "It is not Stoogelina.. it is studeninja, a gelatine extract of rendered pigs feet, eaten by itself or as the base for some wonderful sauces."